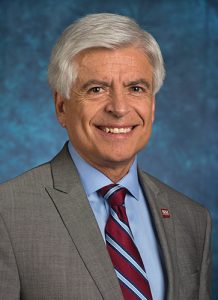 NMSU is an exceptional university, where a lot of great things are happening all the time. 
We're proud to report that enrollment at every single one of our campuses saw an increase in fall 2022, led by the largest first-time, full-time freshman class since 2009. Our Las Cruces campus counted 14,268 students this fall, a 2.6 percent increase. Doña Ana Community College, NMSU Online, NMSU Alamogordo and NMSU Grants each saw healthy gains as well. 
Additionally, NMSU continues to be recognized among our peers for the outstanding education we provide our students. In September 2022, U.S. News & World Report listed NMSU as a Top Tier University in its 2023 Best Colleges rankings. That's the tenth time in 10 years we have made that list. NMSU also was recognized by Forbes as one of America's Top Colleges in 2022. 
These kinds of successes are no accident. They are made possible by the efforts our faculty, staff and other employees put in each day. Credit also goes to our NMSU alumni and friends around the world who support our university in so many ways. It's because of you that we're looking forward to even brighter success in the future. 
Dan Arvizu, Ph.D. '73
NMSU Chancellor
---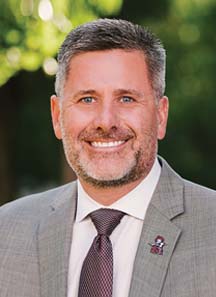 NMSU is filled with extraordinary people. From students to faculty, staff and volunteers – everyone aspires to make a difference, whether it's in the classroom, on campus, in the community or within the corps. For more than 130 years, thousands of Aggies have embodied our core values of leadership, excellence, accountability, diversity, inclusion, success and service.
It is awe-inspiring, then, to find someone like Fred Yarbrough '81 (read more about him on page 34), who exemplifies all these virtues. After a 26-year career in the Air Force, Fred decided to take retirement and start over, pursuing a mechanical engineering degree at NMSU. He began his freshman year at the age of 46 alongside his youngest daughter, Shelly. 
Following graduation, Fred began a second career as a senior quality engineer building radar systems for the aerospace industry. Always ready to serve, he began volunteering once a week at the local thrift shop – and stayed there for 30 years. In keeping with his spirit of gratitude, Fred decided to give generously to NMSU through a scholarship funded through a charitable gift annuity planned gift.
Since 2019, contributions to the Foundation have more than doubled over the university's previous three-year record. There's a story behind every dollar, just like Fred Yarbrough's story, and with the support of the Aggie family we will continue to be bold and shape the future for many generations of Aggies to come.
Derek Dictson '98
President, NMSU Foundation
Vice President, University Advancement