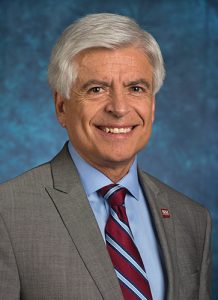 It's been an exciting spring at NMSU on several fronts, especially for Aggie athletics. We got a head start to the spring welcoming the arrival of our new football coach, Jerry Kill, in fall 2021. He held his first spring practice in March 2022 with a great spirit and energy. Later that month, our successful men's basketball team made it to the second round of the NCAA Tournament, marking our first NCAA Tournament win in quite some time. We also welcomed our new men's basketball head coach Greg Heiar and women's basketball head coach Jody Adams-Birch, and we look forward to seeing many, many more wins in Conference USA in 2023, which you'll read more about in this issue.
You'll also read more about the completion of our 10,000-panel Aggie Power solar array, which has the potential to create enough clean energy to power half of our 900-acre Las Cruces campus. I'd like to thank El Paso Electric for working with NMSU to make this possible. Construction is also progressing on our GO Bond-funded Agricultural Modernization Education Facilities project on our Las Cruces campus, and we're looking forward to the first phase being completed sometime in summer 2022. We're also gearing up for the proposal of a new GO Bond project that will improve our engineering and nursing facilities.
Finally, construction on the I-25 and University Avenue entrance and roundabout has been completed, adding a beautiful new element to our campus. It truly is a sight to see the artwork created by local artist Collette Marie '01 that celebrates our agricultural roots and desert landscape. It truly is an exciting time to be an Aggie!
Dan Arvizu, Ph.D. '73
NMSU Chancellor
---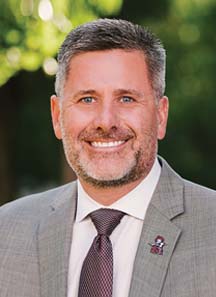 Springtime at NMSU is special, as the desert springs back to life and the colors of southern New Mexico become vibrant. This year is particularly abundant as we emerge from the pandemic and begin a long-awaited return to normal operations. Students and faculty weathered the changes of the last two years like true Aggies, strong and resilient, echoing our alma mater: "With hope and courage, faith and joy, we face the future bright."
With the spring semester coming to a close, the class of 2022 is about to begin the journey of a lifetime. Their accomplishments are made even more noteworthy after achieving so much under the extraordinary circumstances created by COVID-19. We send off these exceptional young alumni with our very best wishes.
At the NMSU Foundation, our future is indeed bright as we continue to work with donors to strengthen our financial position. From grants made possible by generous corporations and foundations, to scholarships and gifts given by caring individuals and families who want to make a lasting difference, we have much to celebrate. In fact, we just completed our second-most successful year of giving in the history of the university.
We at the Foundation salute everyone who has given of their time, treasure, and talent to achieve these outstanding results. As our beloved former board member, the late Ed Foreman '55, once said, "Believe that good things will happen. Expectations have a way of coming true."
Go Aggies!
Derek Dictson '98
President, NMSU Foundation
Vice President, University Advancement