From innovations to donations to transformations, the NMSU community has found ways to help each other and communities handle the once-in-a-century pandemic. Here's a look at a slice of life in 2020.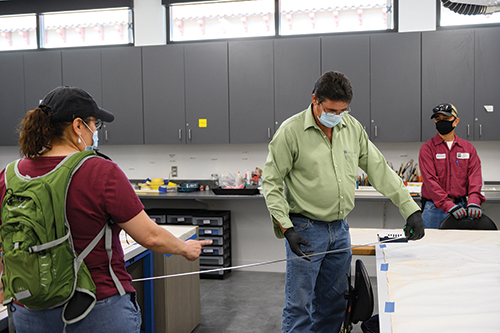 Facilities and Services staff work to reduce COVID-19 risks

Since the COVID-19 pandemic forced NMSU to move its instruction and many of its operations online in March 2020, Facilities and Services staff have worked tirelessly to mitigate the risk of the virus' spread on campus.

During the spring and summer months, the 120-person Facilities and Services crew remained on campus as essential employees, disinfecting all 136 buildings on campus. In preparation for the return to campus for faculty and students in August 2020, crew members were busy installing distance markers and safety shields, making modifications to classrooms, and putting up signage reminding campus employees, students and visitors to wear masks.

Staff also installed vending machines containing face masks and supplies designed to make it easier for faculty, staff and students to do their part to reduce the spread of COVID-19.

"Every day, I'm hearing about how members of our university community across the entire NMSU system are doing incredible, heroic work," says NMSU Chancellor Dan Arvizu. "These Facilities and Services workers are on the front lines of NMSU's fight to minimize the impact of this virus on our Aggie community, and I'm truly grateful for their dedication."

Adriana M. Chávez '19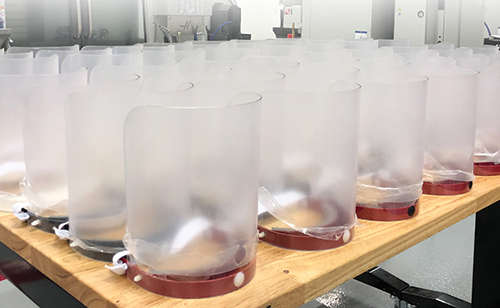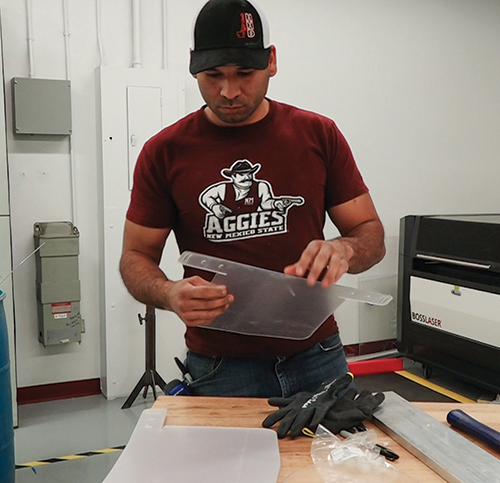 Engineers supply personal protective equipment

When COVID-19 became an unfortunate part of life, NMSU College of Engineering Aggie Innovation Space employees and students added the design and production of personal protective equipment to their workload. Since then, they have supplied the Las Cruces community and the NMSU campus with much needed gear.

They have produced more than 2,000 face shields for hospitals, nursing students and police, and child-sized shields for students who require face-to-face services in public schools. Protective plexiglass desk shields were produced for various campus high-student traffic locations, such as the Natatorium and Activity Center, and academic offices.

AIS student employees are working on the development of a sanitizing mister, which is difficult to find.

Senior Mechanical Technician Taylor Fresques and student innovator Veronica Gurrola say the projects have given them great experience and the reward of seeing their work benefit others.

Since its official opening in 2014, the Aggie Innovation Space has been an avenue for students to have access to state-of-the-art resources, receive hands-on experience and cultivate innovation and entrepreneurship. For more information, contact innovate@nmsu.edu.

Linda Fresques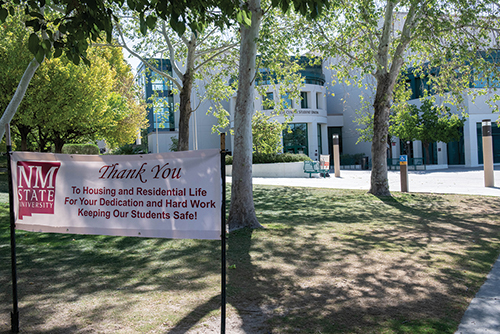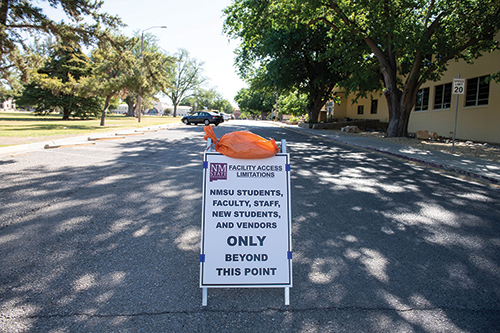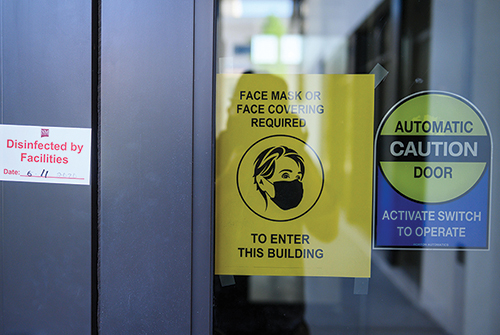 Recording the experience

While 2020 may not be a year some people will want to remember, the NMSU Library Archives and Special Collections staff knows how important it is to record life during the COVID-19 pandemic, and established a COVID-19 archive for the local community.

"While the traditional archival collecting model waits for events to run their course before documentary evidence is acquired, archivists around the country are creating rapid response collections to document this historic event," says Dylan McDonald, political papers archivist and special collections librarian. "Future scholars, historians, scientists, health experts and students will want to understand how we in 2020 reacted and experienced this pandemic."

Archives and Special Collections is focused on collecting digital materials and hopes to post submitted materials on its digital repository for public viewing by the end of 2020. Submissions from students, faculty, staff, retired faculty, alumni, writers, poets and residents across New Mexico include student assignments on the educational and collective impact of the pandemic, short films, an original song, photos, poems and journal entries. Community submissions are still being accepted online at openstacks.nmsu.edu/covid19.

Tiffany Acosta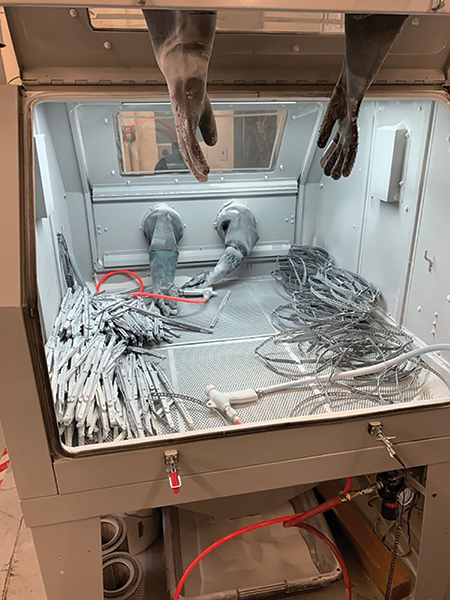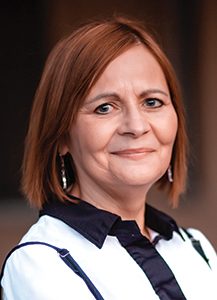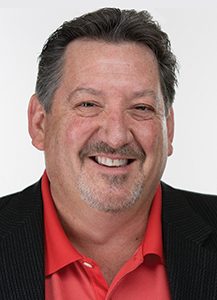 Alums pivot to personal protective equipment production

When personal protective equipment for health care workers became scarce, Roadrunner 3D, a subsidiary of Westwind Computer Products, Inc., began producing 3D-printed face shields, mask adjusters and hands-free door controls using groundbreaking technology.

Since March 2020, Roadrunner 3D has produced more than 40,000 pieces of PPE for health care workers across the country, according to Westwind President Steve Hull '87 and Westwind CEO Frances Jaramillo '84, '86.

"It's amazing to see how technology can come into play in a variety of ways. Our partnerships allow us to provide support to those on the frontline of the COVID crisis, and we couldn't be prouder," says Hull, who joined Westwind in 1998 and became its president in May 2017.

"Westwind focuses on total solutions. With Roadrunner 3D, we wanted the same 'total solution' focus for 3D-print customers. Our team rallied to create PPE solutions in support of health care workers and educators here and around the country," says Jaramillo, a former public school educator who joined the company in 2016 and became its CEO in 2017.

Carlos Andres López '10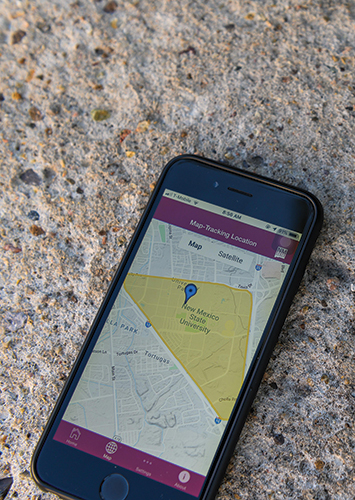 COVID-19 contact tracing app developed for campus

A COVID-19 contact tracing app for smartphones is available for those on the NMSU campus. It identifies whether users are are within six feet of a COVID-19 positive patient for at least 15 minutes if the user allows the app to track their GPS location.

The application developed by NMSU computer science graduate students Fabio Tardivo and Thanh Nguyen, along with undergraduate computer science student Long Tran, will allow those on campus to directly self-report positive COVID-19 results to the Aggie Health and Wellness Center. That report will trigger a number of features in the application.

If the user doesn't allow the GPS to track them, but connects with the wireless network on campus, that data can be used instead or people can register through the online self-check portal. The data generated through the app is reported to the Aggie Health and Wellness Center, which follows New Mexico Department of Health notification protocols.

Minerva Baumann '13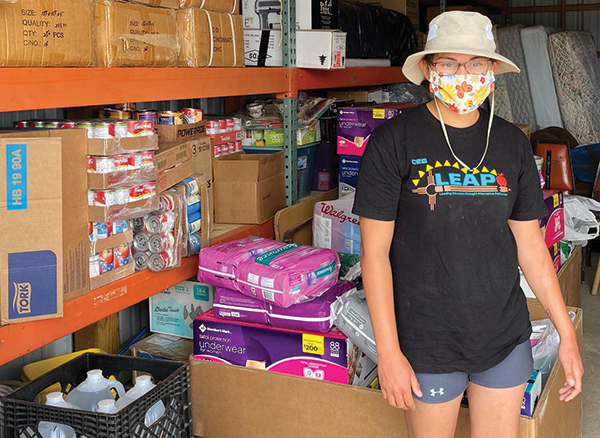 Extending a helping hand

When a community found itself in need of help, Michael Ray, director of NMSU's American Indian Program, didn't waste any time stepping up to the plate.

Located nearly five hours from Las Cruces, the Navajo community of Crownpoint can be found on the northwestern side of New Mexico in McKinley County. The community's small size and remoteness meant that access to food and supplies could sometimes be a challenge. With the arrival of the COVID-19 pandemic, that limited access became increasingly problematic.

Ray says bigger relief agencies can miss small communities like Crownpoint, so he reached out to Crownpoint COVID-19 Relief for help. Ray and his wife were able to make various trips, and more than $30,000 was raised on a GoFundMe page thanks to the NMSU community. Ray is hoping to start a trend among other diverse communities to help each other when the time comes.

"Aggies look after Aggies," he says.

Melissa Rutter '17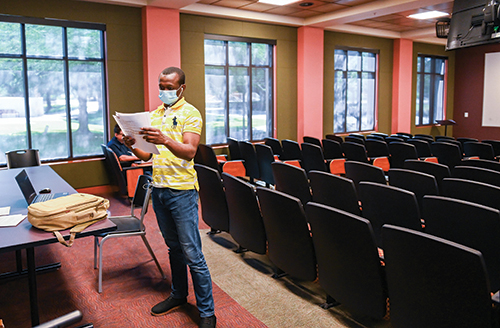 Testing lab established on campus

A new testing lab based at NMSU's Las Cruces campus allows for faster processing of tests for the novel coronavirus infection.

The partnership with TriCore Reference Laboratories to establish a branch lab at Foster Hall also will create internship and collaborative research opportunities for students and faculty in the future.

"This will allow us to conduct very broad testing across our campus at a very low cost in our efforts to help manage the spread of this virus," says NMSU Chancellor Dan Arvizu.

NMSU received funding from the New Mexico Department of Health to support the lab, which will provide much-needed testing capability in the region.

Albuquerque-based TriCore provides expertise with CLIA regulations, scientific validations, medical directorships, policies and procedures and lab operations, and other critical elements that allow the laboratory to function. The Burrell College of Osteopathic Medicine at NMSU also is a lab partner.

Adriana M. Chávez '19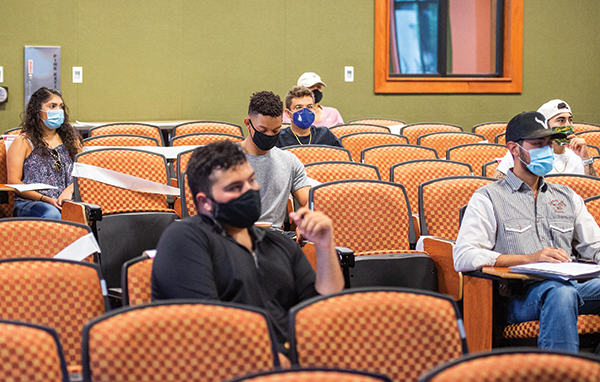 Aggies step up

In fall 2019, the President's Office partnered with the NMSU Foundation to create the Aggie Student Emergency Fund in the Office of Dean of Students as a resource for students who experienced emergency financial need.

When COVID-19 caused NMSU to change to an all online instruction format for the reminder of the spring 2020 semester, the NMSU Foundation partnered with the Office of Dean of Students to generate support for the Aggie Student Emergency Fund, which provides vital financial assistance for students experiencing hardship. Donations support students with critical resources such as utilities, food, housing and technology upgrades.

Through the CARES Act, NMSU received $7 million for emergency financial aid grants for students. Since not every student was eligible for CARES funding, donors raised almost $19,000 for the Aggie Student Emergency Fund, which offered another option for assistance.

In April 2020, members of the NMSU Foundation hosted a benefit concert to raise awareness and support for students. On May 5, 2020, the NMSU Foundation participated in #GivingTuesdayNow, a new global day of giving launched in response to the unprecedented need caused by COVID-19.

Tiffany Acosta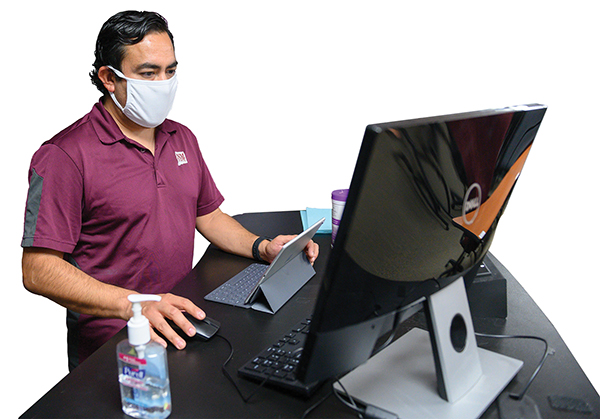 Staying connected

When course instruction transitioned to an online format in March 2020, NMSU leadership used online town hall meetings as a way to provide valuable information to the community and a forum for faculty, staff, students and parents to ask questions and express concerns about COVID-19 precautions and regulations on campus.

After President John Floros requested Milton Hall for the town hall broadcasts, staff from Instructional Media Services facilitated the operation and provided on-site tech support. Town halls were conducted for 10 consecutive weeks until the summer when the broadcasts moved to twice a month. Multi-Media Specialist David Chavez '07, not only assisted with the town halls but also was among the many staff members, including Frank Sage, Frank Altamirano and their student technicians from ICT Classroom Technologies, who spent part of summer 2020 preparing classrooms by mounting cameras and microphones.

"This was and still is a team effort from these units," Chavez says. "ICT Classroom Tech, Academic Technology and Instructional Media Services all work very closely with each other to guide faculty on how to operate the technology, give strategies to instructors on how to teach students both face-to-face and remotely, and of course, give tips on how to use the many tools in Zoom."

Tiffany Acosta