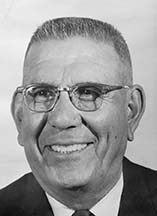 Willie N. Preciado and other volunteer firefighters came together a century ago to lay the foundation for the NMSU Fire Department. What started as an all-volunteer fire brigade is now a full-service fire department providing emergency response to NMSU's Las Cruces campus and Doña Ana Community College as well as mutual aid throughout Las Cruces and Doña Ana County. It also boasts a firefighter training program for full-time students attending NMSU and DACC. The department celebrates 100 years of service in 2021. 
1921
An all-volunteer staff establishes the NMSU Fire Department. Willie N. Preciado, a physical plant employee at NMSU, becomes the department's first fire chief. 
1947
NMSU buys its first fire truck, allowing volunteer firefighters to respond to calls by vehicle for the first time. 
1958
The New Mexico Department of Insurance issues a mandate ordering the department to staff at least 10 volunteer firefighters at all times and reclassifies its ISO rating to Class 8. 
1964
Department starts student program and begins hiring students to serve alongside the volunteer firefighters. 
1965
NMSU builds a fire station equipped with state-of-the-art communications capabilities at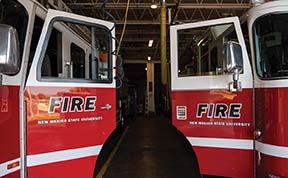 1510 Wells St. to house the department and still uses the facility today.
1991
Department expands capabilities to include emergency medical services. 
2002
NMSU expands the fire station by adding a truck bay, administrative offices and a classroom. 
2011
Department receives its first out-fire apparatus, a Pierce Contender Class A Pumper with a 1,250-gallon pump and 500 gallons.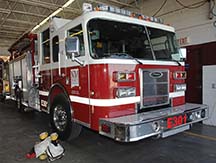 2013
Department hires its first two career firefighters and deputy fire chief. 
2018
Fire Chief Johnny Carrillo announces the department earned an upgraded ISO rating of 2/2X, ranking in the top three percent of all fire departments in the nation. 
2021
Department celebrates its 100 years of service. 
Memorable moments

Battalion Chief Ben Ojinaga '98 '00 
Greeley, Colorado 
Fire Department 
Years of service at NMSU: 1993 to 1997 
"We had a house fire at a family housing apartment, and that was one of the first fires I had to attack from the interior. That one kind of sticks out in my mind because that came out in the newspaper. Of all things we did with that fire, they featured this little cat we rescued. A bigger fire that sticks out in my head was the Foster Hall fire in 1994. That was a significant incident, and it burned up a lab. By the luck of the draw, the fire didn't extend beyond the lab because it melted through a PVC water pipe, and that PVC water pipe was able to keep the fire in check while we were able to get in there and put it out." 

Chief Johnny Carrillo 
NMSU Fire Department 
Years of service at NMSU: 2009 to present 
"One of my proudest moments was when we improved our Public Protection Classification rating to 2/2X in 2018 – a ranking that put us in the top three percent of all fire departments in the nation. This is a true testament to NMSU's commitment to safety and risk reduction. During my time at NMSU, we've also upgraded our water distribution system and emergency communications system and improved our response capabilities and training. We could not have achieved this without our dedicated staff and support from NMSU's administration and our Facilities and Services team." 

Lucas Cadena '20 
NASA Fire Department, Las Cruces 
Years of service at NMSU: 2018 to 2021
"Some of my favorite memories were during our community outreach events. Just watching kids get so excited about what we do and talking to them about fire safety would constantly remind me that I had the best job in the world."