For more than 60 years, the NMSU Alumni Association has presented some of the university's most accomplished alumni with its highest honors — the James F. Cole Award for Service, the Distinguished Alumni Awards and the Young Alumni Service Award. 
In fall 2022, eight new recipients were announced as the latest honorees, with careers ranging from health care to high tech to Hollywood. They were honored at the Distinguished Alumni Awards Celebration Oct. 21, 2022.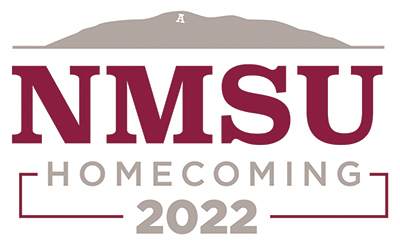 "This year's distinguished alumni have all contributed greatly to their career fields, giving back to society and representing NMSU boldly and brilliantly along the way," says Derek Dictson, NMSU Foundation president. 
The Alumni Association has presented these prestigious awards since 1956, adding the James F. Cole Memorial Award in 1966 and the Young Alumni Service Award in 2019. Honorees are selected based on personal accomplishment, professional achievement and charitable service.
The recipient of the 2022 James F. Cole Memorial Award for Service is Charles Johnson '61. After leading the Aggies to their only undefeated season, Johnson had a successful career in professional football followed by a stint in the oil and gas business. He earned his master's and doctoral degrees while playing in the NFL, after serving in the Army for two years. He returned to NMSU to teach chemical engineering, serving as interim dean of the College of Engineering as well as interim head football coach. Johnson has continually served his community and helped fellow athletes and students.
The Young Alumni Service Award winner is Bobby Brooke Herrera '12. Herrera has collaborated with academic institutions like Harvard University and industry partners to improve the health care systems in both the U.S. and low- and middle-income countries around the world. He is a contemporary role model not only for students, but for anyone interested in technology and its application to alleviate human suffering, particularly among the most vulnerable groups. 
The Distinguished Alumni winners include:
• Michael Galyean '73 – College of Agricultural, Consumer and Environmental Sciences. Galyean is the Paul Whitfield Distinguished Professor in the Department of Veterinary Sciences at Texas Tech University. One of the top beef cattle nutritionists in the world, he served as editor-in-chief of the Journal of Animal Science, and as president of the American Society of Animal Science and the American Registry of Professional Animal Scientists.
• Don T. Foster '81 – College of Arts and Sciences, Fine Arts and Humanities. A television producer and creative consultant in Hollywood, Foster was producer or executive producer of some of the world's most popular sitcoms over the past 20 years, including "Roseanne," "Dharma and Greg," "Two and a Half Men" and "Mike & Molly."
• Kellie Ann Jurado '11 – College of Arts and Sciences, Sciences and Social Sciences. Jurado's groundbreaking work on Zika virus pathogenesis established her as a leader in the field of infectious diseases. She is the presidential assistant professor at the University of Pennsylvania Perelman School of Medicine.
• Tony Boor '89 – College of Business. Boor is chief financial officer and executive vice president of Blackbaud, a cloud software company powering nonprofits, foundations, corporations, education institutions, health care organizations, religious organizations and individual change agents. 
• Wencil McClenahan '91 – College of Engineering. McClenahan had a 25-year career with Boeing Company, where he was twice recognized as a world-class engineer and selected as Boeing Associate Technical Fellow. 
• David Gallegos '97 – College of Health, Education and Social Transformation. An athletic trainer in the Las Cruces community and deputy CEO for Fyzical, Gallegos previously worked with the Milwaukee Brewers and the Arizona Cardinals. He also is vice president of the National Athletic Trainers' Association.
Nominations for the 2023 awards open in January 2023.