With passports ready and bags packed, a group of NMSU undergraduate students boarded international flights in summer 2022 for an experience of a lifetime. The education abroad programs introduced them to new people, new cultures, new languages and new friendships. 
Eight NMSU students were selected to receive the U.S. Department of State's Benjamin A. Gilman International Scholarships award, which provides each student with up to $5,000 for a study abroad or internship program. 
"As a Hispanic-Serving Institution with a student population of 58% identifying as Hispanic, the Gilman scholarship provides much-needed financial support to students often underrepresented in education abroad," says Erica Nikolaisen, Education Abroad program manager. 
In fall 2021, NMSU was named as a top 20 producer of Gilman International Scholarship Program recipients during the past 20 years. Since 2001, NMSU has had 143 recipients.
Every semester, Education Abroad and NMSU's University Financial Aid and Scholarships offers workshops that cover the mission and objectives of the Gilman International Scholarship Program, eligibility requirements, how to prepare and be successful when applying, as well as providing students the opportunity to have their scholarship application essays reviewed.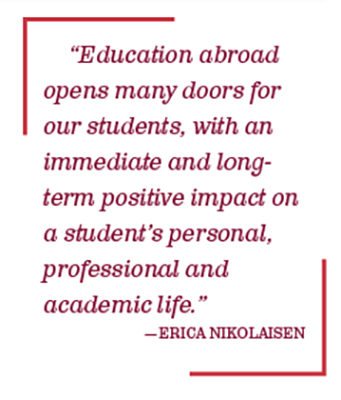 "Education abroad opens many doors for our students, with an immediate and long-term positive impact on a student's personal, professional and academic life," Nikolaisen says. 
"My time in Costa Rica was surreal. I have always been fascinated with Latin America and the Hispanic culture," says Loreal Wilson, counseling and community psychology junior. "I learned about the eco-laws in Costa Rica and the respect the people have for their ecosystems. Though I come from the Navajo Nation, I still felt at home.
"Costa Ricans are warm and loving," says Wilson, who participated in a faculty-led international program, or FLiP, Tropical Insect Ecology, with Scott Bundy, NMSU professor in the Entomology, Plant Path and Weed Science Department. "The chocolate tour in the Tirimbina Forest was my favorite because I got to learn about the Indigenous groups within the area and how they rely heavily on cacao production as an economic resource." 
As a member of the faculty-led international program Global Issues in Agricultural Communications, Sarai Sariñana traveled to Germany.
"My experience abroad opened doors for me that I never thought were possible," says Sariñana, agricultural and Extension education sophomore. "I was able to engage in a whole new culture that opened my eyes to the wonders the world has to offer. It also gave me an opportunity to expand my knowledge in something I am deeply passionate about." 
"This FliP was designed to help students gain awareness of the scope of the agricultural industry and how to communicate about scientific issues across the world," says Shannon Norris-Parish, NMSU assistant professor in the Department of Agricultural and Extension Education. "The experiences in the course helped students identify and analyze various types of marketing and communication efforts based in the European Union, which can often influence what we do in the United States." 
During a food and wine pairing course in Italy, hotel, restaurant and tourism management senior Joshua Jackson acquired skills he can apply to his front desk agent position at Albuquerque Marriott Pyramid North. 
"The experience was unlike anything I have never done before," Jackson says. "It was exciting and thrilling. I learned a lot about the Italian culture, and truly how different our society and cultures are." 
"Many times abroad, students have to use their critical thinking skills to navigate and communicate, which expands their personal scope of what they think they are capable of," Norris-Parish says. "Students can also gain priceless friendships and timeless memories when participating in an international experience."