Alan Vargas was in his first year at NMSU when he learned about a new program that would allow him to play soccer at the collegiate level. 
A seasoned soccer player from Ciudad Juárez, Mexico, Vargas was in the middle of a workout at the James B. Delamater Activity Center when he saw several students from NMSU's University Degrees Abroad soccer academy in their uniforms. Intrigued, he walked up to the group to ask about the program. They encouraged him to call the team's head coach, Talhon Drake.
Vargas soon found himself trying out for the program. Impressed with Vargas' soccer skills, Drake offered him a spot on the team. Vargas became one of about 50 UDA players at NMSU who have turned the once fledgling program into a success in three short years.
"Playing soccer at NMSU wasn't in my plans until I learned about UDA," says Vargas, who has played competitive soccer for 12 years. "It's been a great experience that allows me to play one of my favorite sports and continue my education – it's a win-win."
In 2019, NMSU and UDA teamed up to create a developmental men's soccer program that would become the first UDA program in the United States. UDA's mission is to provide student-athletes with an internationally recognized university degree, a developmental soccer experience and an opportunity for multiple career pathways within a fully integrated university experience.
Jeff Thompson, director of the UDA program at NMSU, says education is one of the main pillars of UDA.
"We want to change lives through education," Thompson says.
New Mexico native Caleb Olsen, who joined the team in 2021, saw UDA as his opportunity to play competitive soccer after high school and take advantage of the state's Lottery Scholarship.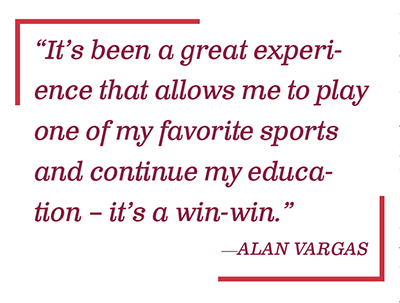 "As soon as I heard about it, I got on a call with the coaches. They told me all about the program, and I knew it would be a perfect fit," says Olsen, who's from Aztec, New Mexico. "It's been a great experience."
The team entered its third year in August 2022 following a highly successful second season. 
During the 2021-2022 school year, the team finished atop the United Premier Soccer League's West Texas/Southern New Mexico division with an overall record of 6-2-2. UPSL is the largest and most competitive pro-development league in North America with nearly 400 clubs competing nationwide.
In July 2022, the team completed its first-ever playoff championship with a 1-0 win over Southwest FC, becoming the only Las Cruces team to win a UPSL championship outright and advance to the UPSL National Tournament "Round of 32." The team also won its "Round of 16" game and went onto the final match but lost to Dodge City KS.
Thompson sees the team building on its successes in the coming years, especially after weathering the challenges brought on by the pandemic. He credits the team's strong performance to Drake and Blake Ordell, another head coach.
"Those guys have done a remarkable job of keeping our group together," Thompson says.
"I'm so proud of what we're doing," Drake says. "To have an amazing product on the field with a group of kids who never played together and went through all the trials and tribulations of COVID is quite an accomplishment."
Both Olsen and Vargas agree the team is a like a close-knit family.  
"My teammates are awesome," Vargas says. "We know each other, we hang out together, and we do everything together."
Olsen adds, "You meet people from across different parts of the country and world. It's really cool because we all come together and work as a team for one goal."
Like all UDA players at NMSU, Vargas and Olsen are full-time students. Olsen opted to study criminal justice, while Vargas is pursuing a degree in kinesiology. 
"If I can't play for a Major League Soccer team, I'm planning to study neurosurgeon medicine and hopefully become a doctor," Vargas says.