Ken Miyagishima '85 keeps busy, with his dual roles as a business owner and mayor of Las Cruces, but still finds time to share his experience in the insurance and personal finance industry with students in NMSU's College of Business. He taught a course in the principles of personal finance during the spring 2022 semester. 
"I've always been a big advocate of financial literacy," says Miyagishima, who earned a bachelor's degree in real estate and finance at NMSU and a master's degree in business administration from the University of Texas at El Paso. 
Miyagishima teaches personal financial planning and investing in a global economy in the College of Business.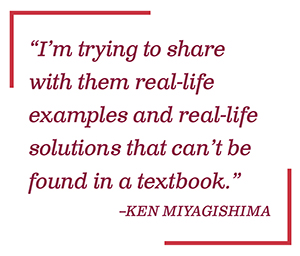 Students are learning some of the core principles of personal finance, including taxes; credit; consumer, home and auto loans; insurance; and retirement planning.
Miyagishima is no stranger to the classroom. He previously taught personal finance at Doña Ana Community College from 1990-96. He says he wanted to use the knowledge and experience he's gained over the years to benefit NMSU students and the community.  
Miyagishima's class is a "viewing a wider world" course at NMSU, meaning any student has the opportunity to take the class without prerequisites. There were 45 students enrolled in spring 2022, and many of them from outside the College of Business. He says it's crucial for all students to learn about the importance of planning their financial future. 
"My students are engineers, wildlife sciences, criminal justice majors," he says. "They haven't been exposed to budgets, money, investing, things of this nature; and it's important for them because they're going to be making a good income. But if they don't know how to save for retirement in the future when the time comes and they're ready to retire, they're not going to have it there. My goal is to teach them.
"I'm trying to share with them real-life examples and real-life solutions that can't be found in a textbook," he says. "I enjoy it. It's fun, and if I can help change and increase their awareness of it, that's all I'm hoping to do." 
Miyagishima says he would also love to explore teaching a government or political science class and hopes to teach the course again in fall 2022.