In 2021, Alma Chavez '17 received the Fulbright Scholarship to continue her studies in forensic anthropology at the University of Kent in the United Kingdom. While she admits it was a challenge to adapt to a new place, she calls the experience "the best year of my life."
The NMSU community has long known that its students and faculty are among the best and brightest in the nation. And the nation is finally starting to take notice. For the first time, NMSU was named in the United States Department of State's Bureau of Educational and Cultural Affairs 2022 list of Fulbright Hispanic-Serving Institution Leaders.
The designation recognizes noteworthy engagement that selected HSIs have achieved with the Fulbright Program, the U.S. government's flagship international educational exchange program. NMSU is among 43 HSIs named on the list due to the university's noteworthy engagement with Fulbright exchange participants during the 2021-22 academic year, having promoted Fulbright Program opportunities on campus for students and faculty.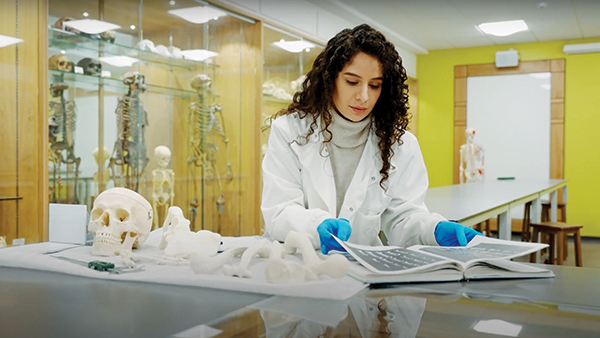 "I created connections and long-lasting relationships with Fulbrighters as well as with fellow students inside and outside of my university that will last forever," Chavez says about her Fulbright experience. "I have met so many interesting people, learned different cultures, traveled around and furthered my knowledge in forensic anthropology."
NMSU's William Conroy Honors College is home to the Fellowships Office, which guides students like Chavez through the process of applying for the Fulbright Program, among other prestigious fellowships and scholarships.
The office's director, Andrea Orzoff, has been both the faculty Fulbright liaison and student Fulbright Program adviser for several years. She has organized spring Fulbright Weeks, held information and orientation sessions, and has coached both faculty and students through the application process. The most recent faculty Fulbright recipient was Regents Professor Elba Serrano, who in 2022 spent the spring semester at the University of Aveiro in Portugal to work with chemistry Professor Maria Rosário Domingues studying marine algae as a source of food to support brain health.
Ariel Kent, a master's student in agricultural and Extension education, applied for the Fulbright program with the help of Orzoff and the Fellowships Office in late 2022. Kent, who says she has a great interest in international education, was waiting for a response regarding her application in spring 2023.
"With the Fulbright I could live and work within a community and truly understand the culture. This experience would improve my ability to work with and advise youth interested in a more globally focused education," Kent says.
"It's incredibly gratifying to see the Fulbright Program recognize this work," Orzoff says. "I'm proud of our students and faculty, and their dedication to the Fulbright mission. I'm also glad to be able to contribute to NMSU's ongoing efforts at internationalization, and our global presence."
Chavez says the opportunity Fulbright provided allowed her to travel and further her knowledge in forensic anthropology, which nurtured her work in the field, and gave her opportunities to explore, develop and create in a transformative environment.
"My advice to NMSU students who are applying for the Fulbright Program is don't be afraid. You don't know what the future holds for you, and the Fulbright Program is a once-in-a-lifetime experience that I'm sure you will love," Chavez says.
For more information about the NMSU Fellowships Office, visit nmsu.link/fellowships or email Orzoff at aorzoff@nmsu.edu.